The Wisconsin Governor's Race Might Be Decided by Education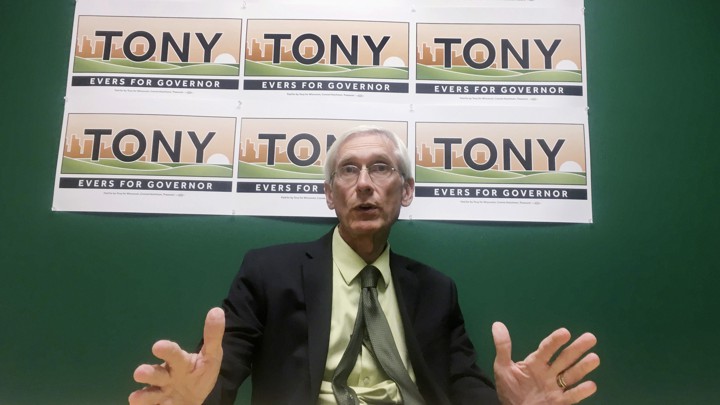 Voters think about a lot of things at the polls: immigration, the economy, health care, gun policy, and—more cynically—party affiliation. But education is an issue that doesn't typically poll near the top of the list, even though it's often thought of as a bedrock of society. Tony Evers, Wisconsin's public-schools chief, and the most likely Democratic candidate to take on Governor Scott Walker in November's gubernatorial election, is banking on the fact that that's changing.
Evers, 67, isn't the only educator who says he's been inspired to seek political office because of the status quo—underfunded schools that have been hit with spending cuts, low teacher pay, and perpetual achievement gaps. Energized by successful teacher strikes in Oklahoma, West Virginia, Kentucky and Arizona, more than 150 teachers—Democrats, Republicans, and Independents alike—are running for state-legislative seats this year, according to an analysis byEducation Week. And in New Mexico, as Politico noted, education weighs heavily in the governor's race. Whoever wins that race will immediately walk into a legal fight over funding for what a judge called "an inadequate system," and both candidates have vowed to revamp the state's teacher-evaluation practices.
Each of these candidates across the country is betting that a focus on education policy will be enough to make voters care. The answer to that question has never been quite clear, but in a year marked by teacher and student activism, there is a fresh chorus of optimism that the strategy might work.
Wisconsin, a state where candidates are jumping over each other to highlight the education bonafides of their campaigns, will be a significant test case. In June, Governor Walker told the Wisconsin State Journal that he's "a pro-education governor … I'm going to continue to be a pro-education governor and build off of that." He has boasted that the state has frozen tuition at the University of Wisconsin-system campuses for the last six years. And he has a stated goal of getting Wisconsin to have the highest high-school graduation rate in the country by 2023—it currently ranks ninth, down seven spots from 2011. And the Democratic primary field is no different. All the candidates support increased funding for schools, and Kelda Roys, a lawyer running for the state's highest office, has advocated for guaranteed early-childhood education and free two-year college for all residents.
For his part, Evers has had virtually every school-related job you can imagine: He's been a teacher, principal, and superintendent over his more than three decades in education. Running for governor was the farthest thing from his mind just a short few years ago, he says. But that changed after he won a third term as the state's superintendent of public instruction. "It was clear to me that as much as I love my job as state superintendent—I think it's a very important one—there are things that I just cannot accomplish for the kids of this state in my present role," he told me. "And I don't believe that Scott Walker will deliver on any promise he has around education."
He offered a more blunt assessment of his motivations during his party's state convention. "I am running for governor because I am goddamn sick and tired of Scott Walker gutting our public schools, insulting our hard-working educators, and destroying higher education in Wisconsin," he said during his stump speech. According to a recent Marist/NBC survey, Evers is leading Walker by 13 points—and an Emerson College survey has him seven points ahead of the two-term incumbent—and he holds large leads over the rest of the Democratic field.
Since Scott Walker took office in 2011, education policy has become a point of tension for the state. Most critics point to Act 10—which limited public employees', including teachers', ability to bargain with employers over wages and benefits and was enacted shortly after Walker took office—as the first shot of a seven-year-long battle between the governor and the state's teachers. As many as 100,000 people took to the streets of Madison in protest. Since the law was enacted, median public-teacher pay in the state is down 2.6 percent, districts ratcheted up health-care costs for educators to recoup the millions of dollars that were cut from the state's budget, and Wisconsin teachers are leaving the profession at a rate above the national average, according to the left-leaning Center for American Progress Action Fund. Public schools in the state have yet to return to 2011 funding levels, adjusted for inflation.