Teatime snacks: Make your evening interesting with this Mirchi Vada recipe
We do it at home, in office, in the bed, the car, even in front of the TV. For most of us, snacking has become second-nature, to an extent that our brains barely register the hand-to-mouth movement. We understand the everyday problems of having to go through the long list of snacking options, only to have settled for some food from the roadside stalls. It's advisable to avoid it but for days when you have a yearning for some hot and crispy munchies, this Mirchi Vada recipe by Chef Ashish Deva, executive chef, Jaisalmer Marriott Resort & Spa is a saviour. Indulge!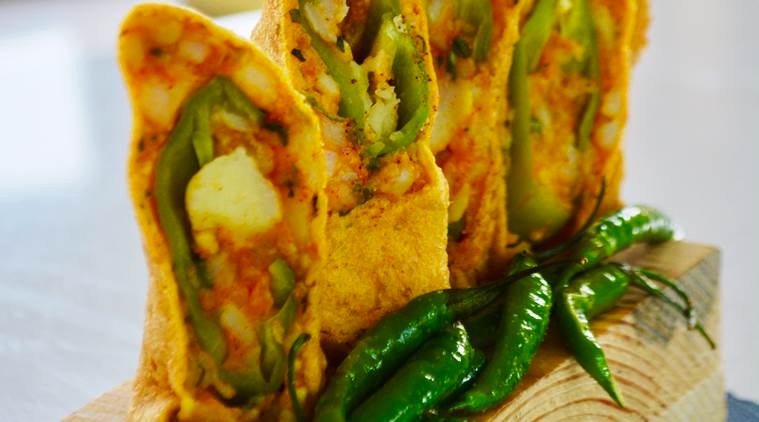 Serves 2
Ingredients
4-5 – Salan chillies
Oil for deep frying
5-6 – Chillies
For Stuffing
2 – Boiled potato
1tsp – Chili powder
½ tsp – Chopped green chillies
½ tsp – Jeera powder
1 tsp – Chopped coriander
1tsp – Chopped ginger
For Batter
½ cup – Besan (gram flour)
1 cup – Water
1tsp – Ajwain
½ tsp – Chili Powder
Salt to taste
Method
* Slit open the salan chillies and clean them from inside.
* To make the filling, mash boiled potatoes and add all the ingredients to it.
* Stuff the chillies with potato filling and then cover them with the filling on the outside.
* Make a batter of gram flour to thick consistency.
* Heat oil in a heavy bottom pan.
* Dip the chillies in the batter and deep fry in oil till it turns golden brown.
* Serve hot with fried green chillies and mint chutney or garlic chutney.