Heaven On Your Plate: From kebabs to biryani, food is serious business in Lucknow
Lucknow's famous poet Ghulam Hamadan Mushafi (1747-1824) is not the only one to use a kebab simile to describe the anguish and fire in a lover's heart. So engrained has the kebab been in the lives of the people of Awadh, that it is difficult to think of Lucknow without it.
However, Awadh wasn't just kebabs. It was about refined tastes, tehzeeb o adaab or etiquette, hospitality and its syncretic culture. From the setting of the dastarkhwan which would have duas for blessing the food and house printed on it, the laying of rakabis, as plates were called in our childhood, with qalai katoras for drinking water cooled in surahis, the waiting for the eldest in the house to take his/her place at the head of the dastarkhwan and start the meal with a prayer; to us, youngsters, saying "adaab" if some elder passed on a dish to us and being blessed with a "khush raho" — the meal was a way of life which has all but vanished.
I grew up in Lucknow, imbibed this culture and try my best to keep it intact. Now, we eat on dining tables and not dastarkhwans, but we have tried to maintain many of the other customs in our home. We wait for the eldest to say "Bismillah kijiye" (start in the name of God), do adaab every time someone passes on a dish and wait for the khush raho. We keep an open house on both Eids and our friends come over to join in our celebration. I love to cook and even though I prefer vegetarian food, I am better at cooking meat dishes.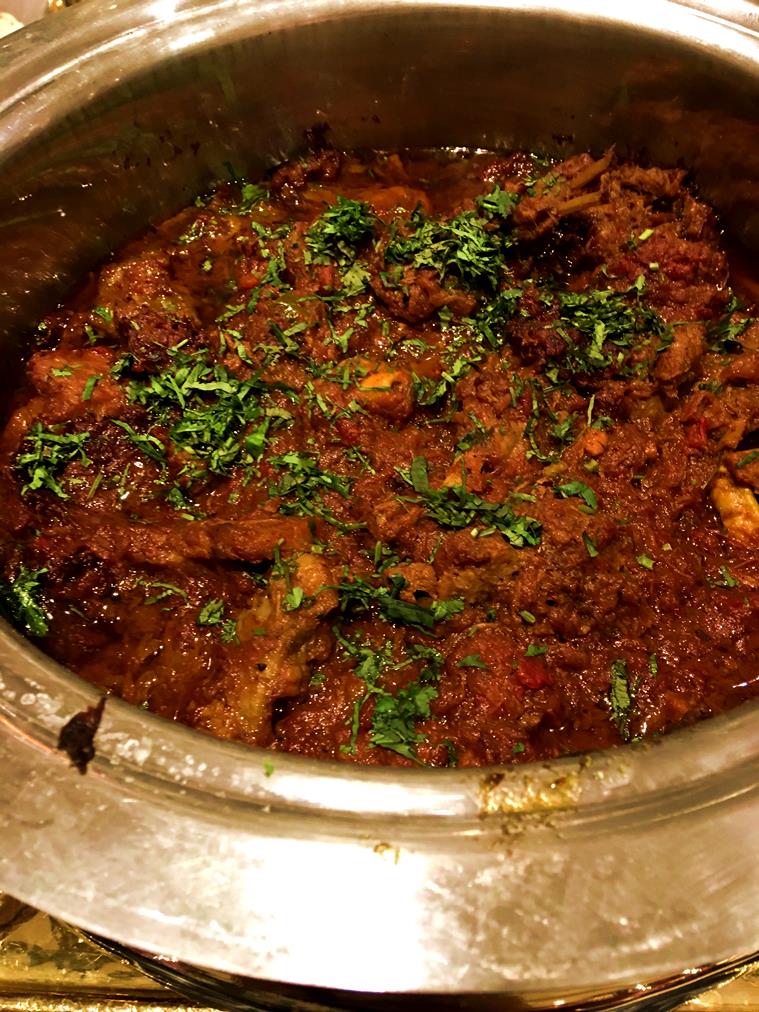 (Source: Rana Safvi)
Our friends look forward to murgh musallam, raan musallam, korma, pulao, biryani, shami and galawat ke kebabs alongwith qiwam ki siwai and phirni on Eid in our house, just as much as I look forward to all the delicious sweets and delicacies on Diwali and Holi in their homes. In fact, so fond am I of gujiya made on Holi, that the year I got married and moved to Jamshedpur, Singh Aunty, my mother's friend, sent me loads of gujiyas, saying, "You may not get it there."
Awadh is the land of sangam, where the rivers Ganga and Jamuna meet. It's also here that many cultural streams met and got the unique "Ganga-Jamuni" identity. The cuisine reflects a melange of Persian influences that came with the Nawabs of Iran, the influx of people who came from Delhi after the attacks of Nadir Shah and Ahmed Shah Abdali, which mixed with the existing culture of this rich Indo-Gangetic plain. For instance, the kebab was eaten with a parantha — inspired by fried puris, an intrinsic part of Hindu cuisine. Even today, if you visit the narrow galis of old Lucknow, you will find puri-kebab and puri-aloo ki sabzi being sold, along with samosa and jalebi.
When I was studying in Lucknow, I remember exchanging my tiffin box packed with kebabs and rotis for my best friend Neena's tiffin, with parantha-sabzi in it. She still loves kebabs and I still love parantha-sabzi. I share so many similar memories with my septuagenarian friend, Anil Chandra, who grew up in Lucknow, too.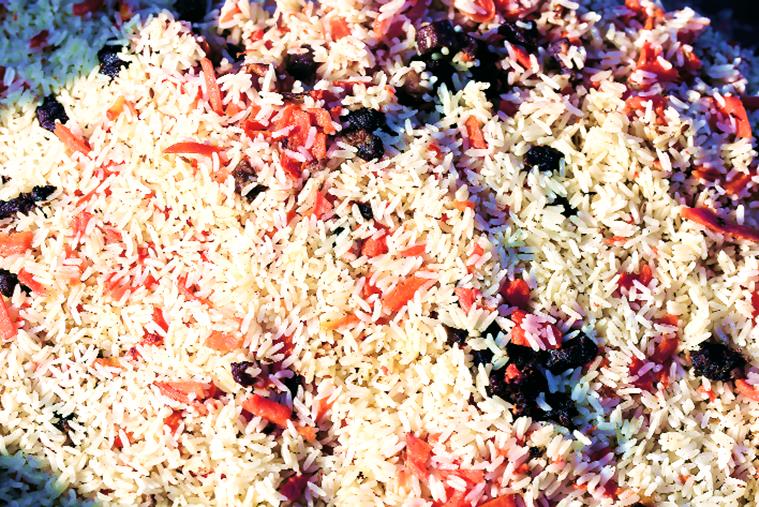 (Source: Thinkstock Images)
Mr Chandra lived in a joint family and they didn't eat meat regularly, but he says, "non-vegetarian food was preferred on the table of a large number of Hindu families across cultural lines. Among Kayastha and Thakurs, a fair number of ladies ate meat too, possibly due to Westernised education and frequent inter-cultural interaction." Mr Chandra's mutton curry, which he perfected as a stress buster much later in life, is to die for. I perfected the galawat ke kababs which are much sought after, though I use only six spices. In my family, that's the most popular kebab variant, made with raw qeema, tenderised with raw papaya paste and spices. However, the most famous galawat ke kebabs from Lucknow were the Tunday kebabs, which used 160 spices. It is the secret recipe of Haji Murad Ali, who had one hand (it earned him the nickname of Tunday).
As a child, I remember passing by his small shop in Lucknow's chowk, but in those days, ladies from genteel families didn't eat on the roadside. So, my first taste of those heavenly kebabs was when I was much older and such etiquettes were no longer a part of society.
Seekh kebab was refined in India from the shish kebab of the nomadic Mongols, who carried marinated meat in their saddle bags and cooked them on shish or skewers at night, and introduced it to India during their invasions. The shami kebab is said to have been invented for a Nawab sahib of Awadh by a Syrian cook, as the toothless Nawab sahib found it difficult to chew meat. Kakori kebab's creator, most likely, was the rakabdar of the Nawab of Kakori, Syed Mohammed Haider Kazmi — the story goes that a British officer, a guest at his table, criticised the rough texture of the seekh kabab. His cooks came up with a softer version of the seekh kabab by taking the meat from the raan ki machhli — a cut from the leg of mutton — and then adding khoya to it.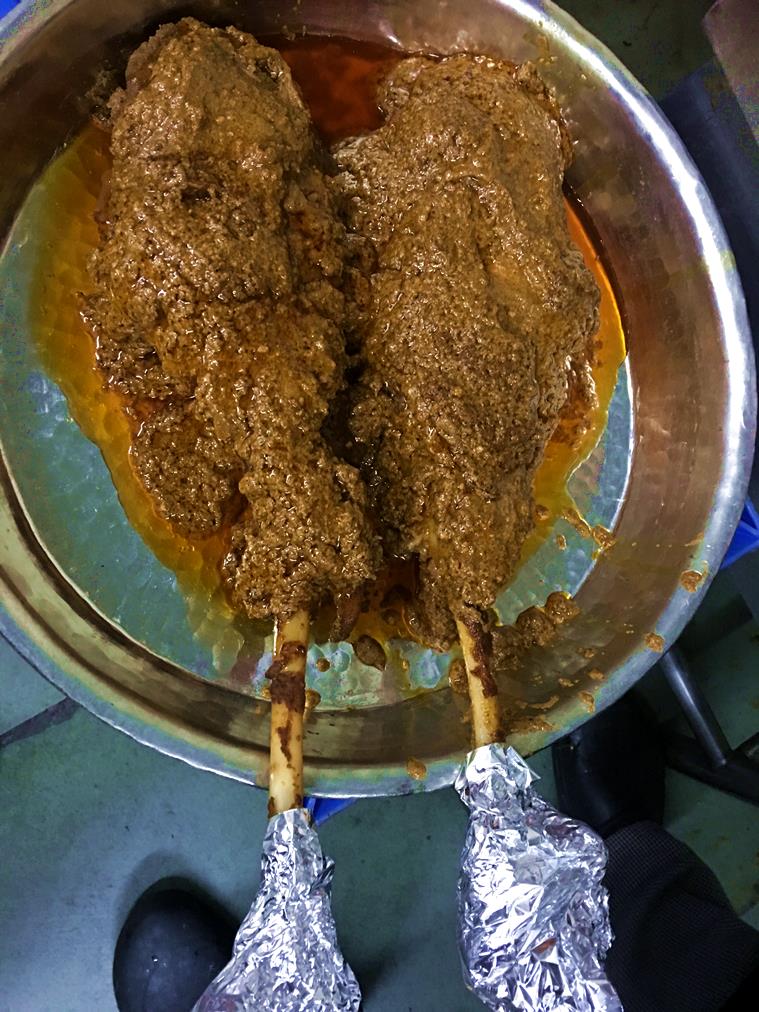 (Source: Rana Safvi)
Cooks were veritable artists who rose to the occasion and came up with various innovations to please their patrons. One cook made khichri using pistachio nuts and almonds, shaped as the dal and rice — it looked exactly like khichri but the taste obviously was very different and difficult to forget! Another invented a pulao that resembled pomegranate seeds by colouring half the rice grain ruby red and left the other half white.
Pulao was the more favoured preparation over biryani in Lucknow. Though that name is used indiscriminately today, there was a fine difference back then. Pulao was meat cooked with rice, and with very delicate spice flavours. Biryani was usually layered rice with meat, and used far more spices for the delicate Awadhi palate. There were many famous pulao variations born in Lucknow, as the prolific Lucknowi historian Abdul Halim Sharar mentions: gulzar, nur, chameli, koku and moti. The method of preparing the "pearls" for the moti pulao was laborious. Two hundred grams of warq or silver foil, and 20 grams of gold foil were beaten into the white of an egg. This mixture was then stuffed in a chicken gullet, tied with a fine thread at short intervals, and heated slightly. When this was opened, shiny well-formed pearls would emerge, which were cooked with the meat of the pulao and used for garnish. Some chefs made these pearls with cottage cheese and covered them with foil. That's the method I use by covering tiny meatballs for non-vegetarians and paneer balls for the vegetarians with silver foil.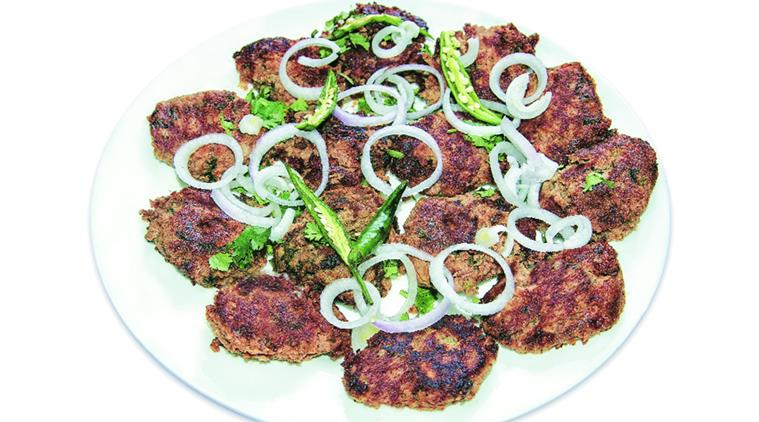 On another note, King Ghaziuddin Haider's chef, as the story goes, made six paranthas for him daily, in 30 sers of ghee. One day, the king's wazir decided to check exactly how it was made. He saw that the chef put in five sers of ghee in the pan to cook one parantha and threw away the rest. He admonished him and instructed him to use only one ser of ghee to avoid wastage. The result? Paranthas with diminished taste and an enquiry from a displeased king on the deteriorating quality. On being told about the strictures, he ordered the wazir to stop practising economy. Food is serious business for someone from Lucknow, irrespective of religion.